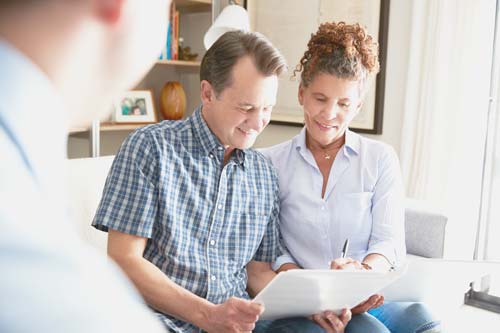 Buying your new home can be an exciting adventure! Our home buying guide will help you understand the process – from steps you should take at the beginning through closing on your new home. While there are a lot of details involved, taking the right steps and making informed decisions will make your purchase go as smoothly as possible.
Define Your Goals
Before beginning your home search, make sure to have clearly set goals: desired neighborhoods, type of home, must-have amenities, etc. As you get into the market, you may need to be flexible on some of these requirements, but starting with a best-case list will be helpful.
Examine Your Finances
Before purchasing a home, it's important to make sure you have your finances under control – make a budget to determine what monthly home payment you are comfortable with and ensure that you have savings and reserves in place to support your home purchasing goals.  While there are options for 0% down home loans, the more you have to play with the more options you have as it relates to various home loans.  Many people think you need 20% down to purchase a home.  In actuality, most of the folks we work with are getting in with 3.5%, 5%, or 10% down.
Get Pre-Approved
Getting preapproved with a reputable mortgage lender will give you peace of mind that you are qualified to purchase the home of your dreams.  It is also a necessary step prior to submitting an offer on a home as the Listing Agent will most likely recommend to their Sellers that an offer not even be considered if it is not accompanied by a preapproval letter.  You are free to choose any lender you wish.  If you need a recommendation, we highly recommend Shanna Keller over at Cornerstone Home Lending.  They are a local lender with in-house underwriting and are a trusted name in our community.  Visit www.ShannaKeller.com and click on the "Prequalify" tab to get started.  It costs nothing and Shanna will get back to you most likely the next day with your preapproval letter.  Shanna has helped over 140 of our clients and will do a great job for you and your family.
Research Real Estate Professionals
Take some time to do some research here!
By this point, you have a good grasp of the type of property you're looking for and the purchase price you can afford. Interview or research reviews of multiple agents to find someone who has a proven track record of exceeding their clients expectations.  If you're shopping with a spouse, make sure both of you agree on the agent. Home-buying can be a storm and you want a good captain that you'll both trust!  Feel free to check out our reviews by clicking on the "Testimonials" tab on my website.  We have over 120 Five Star reviews from past clients.  Our goal is to take such great care of you that you tell everyone about us!
Meet with a Real Estate Professional
A good real estate professional will want to spend some time with you to understand your specific needs, and thoroughly explain the home buying process and what to expect.  Even experienced home buyers can find the process a bit complex, and the industry is continually changing.  After understanding your needs and goals your real estate professional will be able to set you up with an automated mls search of homes that match your SPECIFIC needs.  We offer a free, no cost or obligation, consultation which includes this automated home search software with a direct feed from our local mls.  This software will notify you the minute a home hits the market that matches your specific criteria and save it to a portal where you can login and see all the details of the home including pictures, virtual tour, map, and even the disclosures the listing agent uploaded to the mls.  And unlike the public sites, like Zillow, it will not show you a bunch of homes that are already under contract.  Click on the "Contact" tab on my website when you are ready to schedule this consultation (before or after getting your preapproval letter is fine) and we will get you setup.
Search for Homes
Work with your agent to search homes that meet your goals and criteria. You'll also want to make sure you view homes in person – pictures are awesome, but can sometimes be misleading! Don't get frustrated if you don't find a home immediately – each showing gives you a chance to learn more about what you can get in your area at your price point. You WILL find a place to call home.
Make an Offer and Negotiate
Once you've found the home you'd like to buy, it's time to make an offer. Here's where a good agent earns their money – showing you the home is the easy part. Understanding true market value of the home, negotiating the purchase price, and shepherding you through the offer to closing is where great agents shine!
Sellers can counter your offer, inspections can reveal possible repairs, and you can suddenly find your budget at risk and maybe even question if this is the right home for you. Above all, stay calm and continue to communicate with everyone involved. Check your budget, your emotions, and your buying partner to make the next right steps.
Secure Your Financing
You're almost there – remember, your lender wants to ensure that this is a good move for everyone, so they will most likely require the home to be appraised by a licensed appraiser. In addition, the lender's underwriting department may ask for additional updated documents during this time to wrap things up.  Providing accurate and timely responses keeps the process moving and gets you to your desired outcome the fastest.
Close the Deal
The time from contract to closing can vary, but typically is around 30 – 45 days.  The lender I mentioned above, Shanna Keller, can close your loan in as quick as 10 business days for no additional cost if you tell her in advance that you want this option when you find "the home".  Just prior to closing, you'll do a final walk-through to check that all agreed-to repairs are completed and that the home is in the expected condition.
The actual closing will most likely be at a title company and typically takes about one hour. At the closing you will meet with the closing agent from the title company to finalize the paperwork.  Your agent will also be there, as well as your lender, the Sellers, and their agent.  During the closing all paperwork will be finalized, including: the deed, title, financial/funding, closing statements, etc.
At this point, you're done with everything, will receive your keys, and you will be ready to move into your new home!!
You may also be interested in...